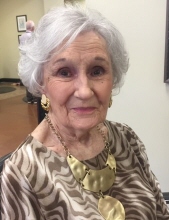 Obituary for Ruby Mae Embry Galey
Ruby Mae Embry Galey, 93, was called home to glory on November 2, 2019. She was born on August 9, 1926 to Ruby (nee Byrd) and Robert O. Embry, Sr. in Lucedale, Mississippi. Her parents and her older brother Robert, Jr. preceded her in death.
Ruby attended the University of Mississippi where she fell in love with the Ole Miss Rebels and more significantly with a young man named C.D. "Red" Galey. They were married on August 18, 1946.
After their time at Ole Miss, Ruby and Red moved to Hattiesburg and began their family welcoming son, Glenn, and daughter, Jan, to their home. Ruby and Red were founding members of Parkway Heights United Methodist Church, faithfully serving the Lord there for decades.
Ruby was the matriarch of her family. A true southern magnolia, she exhibited poise, dignity, and strength in all seasons, loving her husband well for almost 70 years of marriage before his death on February 5, 2016, and supporting her children on every front. Ruby beautifully sacrificed personal accolades to be the backbone of her family so her husband and children could thrive in every endeavor they pursued.
Her life truly exemplified the Proverbs 31 woman. She will be remembered for her faithful dedication to her husband, her steadfast care for everyone around her for generations, and mostly for her deep love for her Savior Jesus Christ. That's why today, while we deeply grieve her earthly absence, we do not grieve without hope. We know that because of her relationship with Jesus, today she is having her best day ever.
Ruby is survived by her children, Glenn Embry Galey (Gayle) and Jan Galey Tatum (John); grandchildren, Roman Galey (Keri), Ryan Galey (Regina), John "Trei" Tatum (Amy) and Galey Thomas (Chad); as well as many great-grandchildren who loved her dearly.
Services will be held Monday, November 11 at Parkway Heights United Methodist Church. Visitation from 9:30-11:30am with service following. Memorials may be sent to Parkway Heights United Methodist Church or Christian Services, Inc. in Hattiesburg.
Cemetery Details
Location
Roseland Park Cemetery
1202 W. 7th St.
Hattiesburg, MS 39401