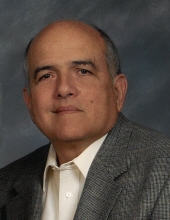 Obituary for Luis Melvio Monterde
Luis Melvio Monterde, age 77, passed away peacefully on Thursday evening, September 26, 2019 at the Adventist Health Center of Lumberton, MS. He was born February 19, 1942 to Marcos & Luz Marina Monterde in Banes, Cuba. He migrated to United States in 1959 and soon thereafter became a graduate as a Heavy-Duty Diesel Technician and started his career in that field. In the summer of 1968, he joined the staff at Bass Memorial Academy and virtually dedicated his life, as "Mr. Mon" to the Academy and its staff and students. Through the following decades he established the supportive industries B & M Imports B & M Blueberry Farm and Packing Facility. He was one of the founding Blueberry Industry leaders for the State of Mississippi and the MISSLOU COOP, and was known as the "Blueberry Godfather" and "Don Luis". He was appointed by the Secretary of the U.S. Department of Agriculture (USDA) as the Board of Directors Federal Crop Insurance Corporation (FCIC) Director 2004-2012.
He is survived by his wife Paula Hartfield Monterde, their children; Greg, his wife Alexis Polles and their children Maria and Alex; and Scott, his wife Jill Haugen Monterde, their children Adam and Ben; and youngest brother Joel Monterde.
His life was spent doing honest work, building a name for himself and an industry for his family. Into his old age he worked every day of his life, and came home to food on the table every night. His fascination with armchair philosophy and propensity for quoting "a political book I read way back when" will be dearly missed at family and friends' table.
A Memorial Service will be held March 28, 2020 at 2:30, Alumni Weekend at Bass Memorial Academy Church.
Upcoming Events
Funeral
Bass Memorial Academy Church
6433 US-11
Lumberton, MS 39455