Obituary for Leona Irene "Aunt Nellie" Price
Leona Irene Price, better known as Nellie to her family and Nanny to her grandchildren, 93, died Saturday, January 6, 2018 in Wiggins.
She was preceded in death by her parents, Merrill and Myrtle Smith; husband, Ed Price; brother, Bob Smith; two sisters, Pearl and Elsie Smith; son, Bobby Price.
She is survived by her three children, Ed Price, Linda Powell and Martha Price; son-in-law, Jerry Powell; seven grandchildren, Krystina Powell, Roberto Martinez, Abby Powell, Justin Price, Travis Price, Brian Price and Nanette Allen-Brown; sisters, Mae Stamm, Dorothy Wentz and Fern Smith and many nieces, nephews and great-grandchildren, whom she loved so much.
What can you say about Nellie Price? She was a wonderful Mom, but she was also a whole bunch of love, fun and can't forget about the bit or ornery all rolled up in one little woman. She also had a gypsy side to her and we will never forget her adventurous side that took her to drive across country time and time again, just for a short visit with her family. The last trip, being when she was 79, she set out for Pennsylvania from Wyoming, in her words "all by her alone" and somehow got hung up in a round-a-bout highway in Chicago and just couldn't find her way out. She pulled into a Marriott Hotel and settled into a $500 room with her dog, Jim Bob, for a few days until her childhood friend and the neighborhood kid, that lived at our house, Herman Gross, flew to Chicago and drove her the rest of the way to Pennsylvania. I understand they had a wonderful time! This is one of her favorite stories and she loved to tell it.
She loved her life of taking care of her babies and her pre-schoolers. She retired from her teaching career in her early sixties, so there was plenty more time for more trips and adventures. A lot of her adventures included her animals of course. She loved her dogs, cats, chickens, goats, ducks, geese and her nephew Jesse, who is helping me write this!
She is known as "The Nanny" to her grandchildren and great-grandchildren. She spent many years helping raise the ones living in her area, spoiling them and making it hard on the parents, of course, but that was her job!
Nellie was known as "Pricey" at the Stone County Nursing Home, where she resided for the past six years. Granddaughter, Abby, figured turn about was fair play, so she took it upon herself to spoil her Nanny in the nursing home. Nanny had McDonald's coffee, three or four times a week, goodies of all kinds and lots of hugs and kisses, trips to Barnes and Nobles, to the park and even a little Walmart shopping. She lived a full life no matter where she was.
We will always, throughtout our lives, celebrate Leona Price's (i.e., Sister Nellie, i.e., Aunt Nellie and i.e, "The Nanny") , life , along with all the Aunts and Uncles that have since passed and those still here and all the cousins we grew up with who had such a significant impact on the Price family. They all made our childhood wonderful and one to be remembered and carry in our hearts forever.
To send flowers or a remembrance gift to the family of Leona Irene "Aunt Nellie" Price, please visit our Tribute Store.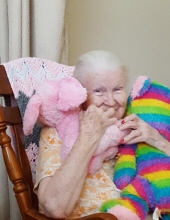 Thank you for sharing your
memory of Leona
Provide comfort by sending fresh
flowers from our local florist.
No thanks, please don't show me this again.