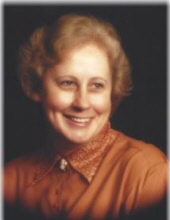 Obituary for Gloria Yvonne Sweeney Martin
Gloria was born on September 9, 1943 in Nashville, TN to James Malcolm and Beulah Mae Sweeney. She grew up with her parents, her sisters, Elizabeth, Carolyn and Glenda, and her brothers, Bubba and Robert, in Stone County near Wiggins, MS. Gloria graduated as class valedictorian from Janice High School in 1961. After high school Gloria moved to Dallas, TX in hopes of attending computer school. She worked several jobs and met and married Earl Martin in 1965. They moved to several states pursuing Earl's business dreams while having their children: Angela, Lester, Margaret and Eric. The family eventually settled in Waco, TX.
When Gloria's 50th birthday came around she worried she may never have any grandchildren. Then granddaughters Zoe and Carlie were born the same month and grandsons Connor and Levi came along a few years after their sisters.
Gloria always loved being a mom and a Nana. She loved raising her children and spoiling her grandbabies. She took good care of her husband Earl until he passed in 2016. She always loved gardening in her yard until her health caused her to stop just a couple of years ago.
Gloria was a member of Crossroads Baptist Church where she was baptized in her youth. She and her family visited churches when they moved to a new home but never joined another church. When she and Earl moved to Elm Mott, TX in recent years she attended Sunday School and worshipped. She loved the ladies in her class and they welcomed her into their circle of friends.
She is survived by her daughter, Angela and husband, Ken Carothers; her son, Lester Martin and wife, Gretchen, her daughter, Margaret and husband, James Trantham; her son, Eric Martin and fiancé Tina Manullang; grandchildren, Zoe, Carlie, Connor, and Levi; sisters, Liz Loper and Glenda Blochwitz and numerous nieces and nephews and other family and friends. The family gives thanks and praise to Our Lord and Savior for blessing us with Gloria for almost 76 years, for walking with and carrying Gloria, her family and friends, through this time, for healing Gloria, and for welcoming Gloria into His heavenly presence for eternity.
Gloria passed on September 3, 2019.
Previous Events
Visitation
Moore Funeral Service - Wiggins
1115 West College Avenue
Wiggins, MS 39577
Service
Moore Funeral Service - Wiggins
1115 West College Avenue
Wiggins, MS 39577
Cemetery Details
Location
Cross Roads Cemetery
2 Ash Nursery Rd
Wiggins, MS 39577