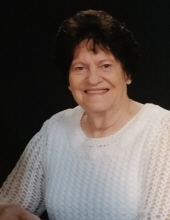 Obituary for Diana Jean Moody
Diana Jean Moody, 82, of Hattiesburg, passed away on Saturday, August 10, 2019 at the Care Center of Laurel. A graveside service will be held at 3 p.m. Wednesday, August 14, 2019 at the Liberty Cemetery in Stamps AR.
Diana was preceded in death by her son, Billy Gene Moody; her parents, Arvin and Tommie Rogers; and a brother, Jimmy Dale Rogers.
She is survived by her four daughters, Mary Gail (Kevin) Kuhn of Hattiesburg, Brenda Kay Begneaude of Corpus Christi, TX, Linda Ann (Blaine) Cearly of Meeker, CO, Terri Ann (Ray) Devores of Bossier City, LA; one sister, Paula Carol (Nathan) Chance of Bossier City, LA; eight grandchildren; and twenty great-grandchildren.
Visitation for Diana will be at 2 p.m. until service time at the Smith Funeral Home in Stamps, AR.