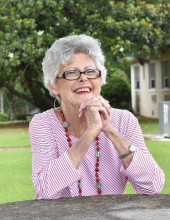 Obituary for Catha Lynn "Sugar" Jones
Our precious "Sugar", Catha Lynn Jones, 68, of Prentiss, Mississippi, left her earthly home and entered her eternal home with her Lord and Savior November 4, 2019. She slipped away peacefully surrounded by her loved ones. Services will be Friday, November 8, 2019 at 1 p.m. at Prentiss Baptist Church followed by burial in Old Good Hope Primitive Baptist Church Cemetery in Mendenhall.
Catha was born January 26, 1951, in Jackson, Mississippi, to Kelly Smith and Donnis Shows Smith of Simpson County, Mississippi. Before graduating from Prentiss High School in 1969, she began her employment at Jefferson Davis County Hospital in Prentiss, Mississippi, where she served faithfully as the administrative assistant.
Throughout her 50 years of faithful and dedicated service to the hospital, she went above and beyond to offer assistance to anyone that needed help. Through the years, Catha developed personal relationships with her coworkers who became like family to her. It has been said many times, Catha was the "glue" that held the hospital together.
Catha will also be remembered dearly for her love of her church and her church family. She was completely devoted to service through Prentiss Baptist Church. Catha's love for God and her fellow man was revealed in many unending acts of kindness.
Her service and devotion to God helped her guide her children to follow in her footsteps and develop close relationships with God. Catha faced trials and heartache during the untimely loss of her beloved sons, Scott and Stephen; however, her faith in God never wavered. Strength, grace, dignity and perseverance are only a few qualities she displayed. Catha helped countless others in times of grief and despair; she was an inspiration to all who knew her.
Scott, Stephen and Brooke were blessed to have a Mother who loved so deeply and gave so freely without condition. Her children were her greatest joy; her grandsons, Landry, Lyndon and Layton were her heart. She beamed with pride anytime she spoke of her children and grandsons.
She is survived by her loving husband of 52 years, David Jones; one daughter, Brooke Williamson (Kane) of Madison, MS; grandsons, Landry, Lyndon and Layton Williamson, all of Madison, MS; one niece, Kim Waller (Erik, Hayden and Averie Brooke) of Brock, TX and one nephew, Justin Smith of Metairie, LA. She was preceded in death by her sons, Scott Jones and Stephen Jones, her mother, Donnis Smith, her father, Kelly Smith and her brother, Keith Smith.
Visitation will be Thursday, November 7, 2019 from 5 – 8 p.m. and Friday, November 8, 2019 from 9 a.m. until service time, both at Prentiss Baptist Church.
In lieu of flowers, Catha's family requests that donations be made to the Stephen Jones Memorial Scholarship fund at Regions Bank in Prentiss, MS or to Prentiss Baptist Church.
Previous Events
Visitation
Prentiss Baptist Church
2321 Leaf Ave
Prentiss, MS 39474
Visitation
Prentiss Baptist Church
2321 Leaf Ave
Prentiss, MS 39474
Service
Prentiss Baptist Church
2321 Leaf Ave
Prentiss, MS 39474
Cemetery Details
Location
Old Good Hope Primitive Baptist Church Cemetery
Good Hope Rd, Mendenhall, MS 39114
Mendenhall, MS 39114